David Richard Sparks is going to prison. I first wrote about this realtor last June in Orange County realtor lied to clients, stole their money, and admitted to massive Ponzi scheme. According to his confession, he forged bank documents, used non-existent escrow companies, provided bogus status updates and falsely reported significant profits. Victims said if they did not want to reinvest their money with him, Sparks made up excuses for why he could not give it back. He's quite a piece of work.
Mr. Sparks embodies the character and ethics many have come to expect from realtors. The following is from his Active Rain profile:
I have been a full-time, professional REALTOR® since 1987 specializing in the sales and marketing of homes in Orange County, Long Beach and Coastal San Diego County. As a licensed broker, I am the owner of Sparks Realty, Inc.

Honest and full of integrity, I work to achieve a win/win situation in my transactions. While always keeping my clients' best interests in the forefront, I know that a truly successful transaction is one in which everyone feels as though they were treated fairly. As an excellent and open communicator, I owe much of my success to the fact that my clients always know exactly what is happening with their sale or purchase. By keeping everyone fully informed at every step, I makes the real estate process easy and stress-free. My constant accessibility as well as my knowledge of the industry and its affiliated services makes me the perfect choice for the real estate consumer interested in total service.

If you are seeking an honest real estate professional who is committed to your satisfaction and peace of mind, call Dave Sparks today.
The bold text is not added by me for emphasis. That was from Mr. Sparks. His honesty and integrity are beyond reproach since he is a realtor.
"We look forward to serving screwing you, your friends and your family for many years to come."
For as much as I enjoy bashing realtors for its own sake, there is another valuable lesson David Sparks can teach us. The series of bad decisions leading to Mr. Sparks downfall all come from one very important, very bad decision: he speculated on appreciation rather than invested for cashflow. If his real estate acquisitions had been cashflow positive, he would not have needed more money to cover the negative cashflow, and his entire Ponzi scheme would have been unnecessary. This fool is going to jail because he let one catastrophic error in judgment balloon out of control.
By BRIAN MARTINEZ / THE ORANGE COUNTY REGISTER — May 7, 2012
Sex, pride and booze were among the factors that drove an Irvine real estate broker to cheat 34 of his friends, family and acquaintances out of their life savings, retirement accounts, inheritances and college-education funds.

That's according to comments made by attorneys, victims and the judge at the man's sentencing hearing Monday.

In the end, Judge Cormac J. Carney sentenced David Richard Sparks – a former Irvine Planning Commissioner who resigned that position when the FBI started investigating him – to six and a half years in federal prison.
Apparently the judge took a very dim view of this man's behavior, and he should. Those investors would never have given their money to this guy if they knew he was going to spend it on himself, his debauchery, and his family's entitlements.
The sentence was 15 months longer than the government prosecutor recommended and argued in favor of under a plea agreement Sparks had made. It was the longest term possible under federal sentencing guidelines. He pleaded guilty in July to one count of felony interstate wire fraud, and he technically faced a maximum of 20 years in federal prison.

Sparks was ordered to pay back the $4.3 million he swindled by paying at least 10 percent of his income after he is released from prison. Authorities say Sparks no longer has the money he stole, a notion his victims don't fully believe.
It doesn't seem very likely this guy will make $43 million after he gets out of jail to make his investors whole with a 10% wage garnishment. As a realtor, he will likely find a way to take money under the table to avoid paying anything.
That $4.3 million figure does not include taxes victims paid on false profits, costs incurred in the ordeal or interest payments and late fees promised in investment agreements.

"This is not a white collar criminal ripping off investors, this is a guy who destroyed the lives of his family and friends," victim Debra Parent told the court. She knew Sparks from kindergarten.

"I hope you rot in hell," one victim said directly to Sparks before the judge asked that all comments be directed at him.
Wow! This guy really pissed people off. I suppose if I were ripped off by a friend from kindergarten, I would be pissed off too.
Several victims spoke, telling the court about broken marriages, retirement plans destroyed, personal homes in foreclosure, ravished credit scores and health issues resulting from Sparks' fraud and their lost money. Most of the victims were middle class families who personally knew Sparks, did their due diligence in considering the investment and could not afford to lose their principal investment amounts.
If they really did their due diligence, they should have known their investment was at risk. However, they didn't think they were at risk of this guy stealing their money.
Court records paint a picture of Sparks as a charming man and talented liar who claimed to be buying, rehabbing and selling foreclosed or pre-foreclosure homes that he never actually purchased. He forged bank documents, used non-existent escrow companies, provided bogus status updates and falsely reported significant profits. If the investors did not want to reinvest their money with him, Sparks gave them "lulling payments" or just made up excuses for why he could not give it back.
He went to extremes to cover his crime. He should get a stiff sentence for that kind of behavior.
In calculating the sentencing guideline, the judge added aggravating points for what he said was Sparks' abusing a position of trust and using "special skill" in knowing how real estate and its related documentation worked.

Testimony at the hearing indicated that Spark's was under distress when he started cheating people. That stress included having lost his own money and that of his wife and children, having serious marital problems, having a child out of wedlock, health challenges and alcoholism.
I hope this guy finds religion in jail. He has few redeeming qualities at this point.
Prosecutors said they believed Sparks was not motivated out of greed but rather out of his ego, not wanting to own up to losing his friends and families' money when the real estate bubble crashed. Before that, he had much success in investing others' money, and he was looked at with admiration.

Sparks started speculative real estate investing in the late 1980s and in 2005 he believed that real property in Utah's Cedar City was likely to see a dramatic increase in value, so he used his own funds and investor cash to buy 35 properties for about $7 million in Utah and California. That's according to the plea agreement Sparks signed.

By 2007, the rents Sparks was collecting from the properties were no longer sufficient to cover the debt service. Sparks began soliciting cash from investors to cover the debts – deliberately lying to them by telling them the funds would be used to buy new properties. To back up his lies to investors, Sparks created false paperwork.
This is the educational part of this story. The root of all his problems wasn't the crash in resale values, it was the negative cashflow. If he had positively cashflowing real estate, the loss of resale value may have been unsettling, but with positive cashflow, it wouldn't have been a catastrophe. Declining values and a cashflow drain is an investment death sentence, and it was the cause of all of Mr. Sparks troubles.
DON'T BUY PROPERTIES WITH A NEGATIVE CASHFLOW.
… The judge on Monday ordered that Sparks surrender himself to U.S. Marshalls no later than noon on June 11, 2012, to begin his prison sentence. After he is released, he must also serve three years of probation.
Everyone who speculated on real estate during the bubble paid a price. The price paid by David Sparks investors was quite high, and thanks to a thoughtful judge, the price paid by David Sparks himself will be even higher.
David Sparks Ponzi scheme might have worked if lenders had allowed him to borrow against the ever-increasing value of his holdings to supplement the negative cashflow. Unfortunately, borrowing money to service debt is the essence of a Ponzi scheme certain to fall apart once lenders stop the music.
Ordinary citizens were just as involved in running Ponzi schemes as David Sparks, although most didn't go to such extreme lengths to cover it up. In many cases, the results were just as lucrative. For example, the owners of today's featured property paid $830,000 back on 1/29/2002, but only $83,000 of that money was their own down payment — money that likely came from a previous sale. They parlayed that $83,000 into $653,000 in HELOC booty in just over four years. To make it an even better deal, the lender allowed them to squat for about 18 months.
Corona Del Mar Overview
Median home price is $1,283,000. Based on a rental parity value of $965,000, this market is over valued.
Monthly payment affordability has been improving over the last 3 month(s). Momentum suggests improving affordability.
Resale prices on a $/SF basis increased to $711/SF to $747/SF.
Resale prices have been weak for 2 month(s). Price momentum suggests unchanging prices over the next three months.
Median rental rates increased $248 last month from $3,800 to $4,048.
Rents have been rising for 12 month(s). Price momentum suggests rising rents over the next three months.
Market rating = 1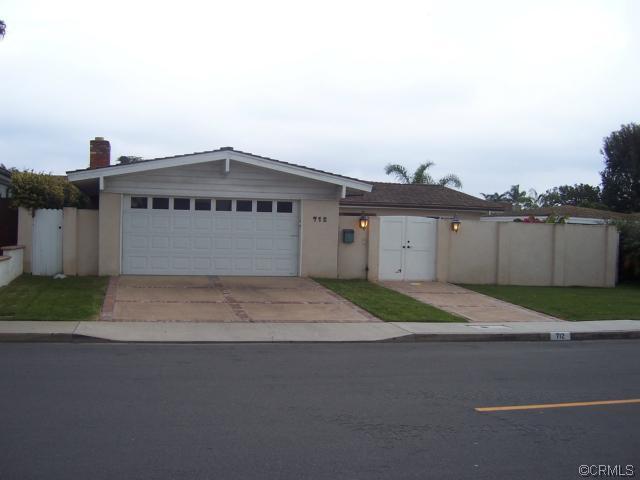 Proprietary OC Housing News home purchase analysis
712 K THANGA Dr Corona Del Mar, CA 92625
$1,399,900 …….. Asking Price
$830,000 ………. Purchase Price
1/29/2002 ………. Purchase Date
$569,900 ………. Gross Gain (Loss)
($66,400) ………… Commissions and Costs at 8%
============================================
$503,500 ………. Net Gain (Loss)
============================================
68.7% ………. Gross Percent Change
60.7% ………. Net Percent Change
5.0% ………… Annual Appreciation
Cost of Home Ownership

——————————————————————————
$1,399,900 …….. Asking Price
$279,980 ………… 20% Down Conventional
4.30% …………. Mortgage Interest Rate
30 ……………… Number of Years
$1,119,920 …….. Mortgage
$276,596 ………. Income Requirement
$5,542 ………… Monthly Mortgage Payment
$1,213 ………… Property Tax at 1.04%
$0 ………… Mello Roos & Special Taxes
$350 ………… Homeowners Insurance at 0.3%
$0 ………… Private Mortgage Insurance
$40 ………… Homeowners Association Fees
============================================
$7,145 ………. Monthly Cash Outlays
($1,343) ………. Tax Savings
($1,529) ………. Equity Hidden in Payment
$436 ………….. Lost Income to Down Payment
$195 ………….. Maintenance and Replacement Reserves

============================================
$4,904 ………. Monthly Cost of Ownership
Cash Acquisition Demands
——————————————————————————
$15,499 ………… Furnishing and Move In at 1% + $1,500
$15,499 ………… Closing Costs at 1% + $1,500
$11,199 ………… Interest Points
$279,980 ………… Down Payment
============================================
$322,177 ………. Total Cash Costs
$75,100 ………. Emergency Cash Reserves
============================================
$397,277 ………. Total Savings Needed
——————————————————————————————————————————————-
This property is available for sale via the MLS.
Please contact Shevy Akason, #01836707
949.769.1599……
sales@ochousingnews.com…..

We're sorry, but we couldn't find MLS # T12056000 in our database. This property may be a new listing or possibly taken off the market. Please check back again.
$3,400,000
341 East BAY FRONT
0.24 miles
4 bd / 1.75 ba
1,645 Sq. Ft.
$2,588,000
1520 ABALONE Pl
0.29 miles
5 bd / 4 ba
2,090 Sq. Ft.
$2,395,000
126 ABALONE Ave
0.42 miles
4 bd / 2.25 ba
2,220 Sq. Ft.
$1,850,000
303 SAPPHIRE
0.44 miles
4 bd / 3.5 ba
2,000 Sq. Ft.
$1,395,000
213 TOPAZ Ave
0.56 miles
4 bd / 2.75 ba
1,778 Sq. Ft.
$4,695,000
804 South BAYFRONT
0.59 miles
3 bd / 2.5 ba
2,100 Sq. Ft.
$1,950,000
214 PEARL Ave
0.59 miles
2 bd / 2.5 ba
2,185 Sq. Ft.
$4,599,000
508 SOUTH BAY FRONT
0.71 miles
3 bd / 2 ba
- Sq. Ft.
$1,150,000
1425 SEA RIDGE Dr
0.75 miles
3 bd / 2.25 ba
2,460 Sq. Ft.
$1,595,000
1602 East BALBOA Blvd
0.86 miles
4 bd / 2.75 ba
2,500 Sq. Ft.
---
Sign up for the OC Housing News monthly market newsletter.
---
See the enormous foreclosure pipeline for yourself below. Enter location and press search. Scroll through list by pressing "next."
---