Statistics across most markets show rents are going up. The monthly OC Housing market report has shown steadily declining prices and steadily increasing rents over the last two years. Resale prices are falling because loan owners are being forced out of homes they can't afford, and the resulting REOs and short sales are deflating the housing bubble.
These same former loan owners end up becoming renters which increases demand for rental houses.
Ordinarily, if loan owners were becoming renters, prices in the rental market wouldn't be disturbed because the REO would be converted to a rental and supply would equal demand. However, since banks have been withholding supply in an effort to hold up prices, the conversion from owner-occupied to renter-occupied has been hindered and delayed. Banks and the GSEs would rather sell their REO to owner occupants. The GSEs want to do this because part of their mandate is to maintain an artificially high home ownership rate. The banks want to sell to owner occupants because they are generally willing to pay more than investors. These biases toward selling to owner occupants has kept prices from falling to market-clearing levels where cashflow investors would buy the property and hold it for rental cashflow; thus the number of rental properties on the market is insufficient to meet demand and rents are going up.
There has been tremendous interest by private equity groups who want to buy REOs and convert them to rentals for their cashflow. These new buyers will deliver enough capital to the most beaten down markets to support resale prices and provide a supply of rentals to blunt the dramatic increases in rent. REO-to-rental investors will restore balance to the housing market.
Few new units and tight standards for home loans add to the pressure. The average monthly U.S. rent is at an all-time high, and a 10% jump in Los Angeles County over the next two years is forecast.
By Alejandro Lazo, Los Angeles TimesMay 5, 2012, 8:09 p.m.
A nation still struggling to clear up one housing debacle has run smack into another — soaring rents.

The foreclosure mess has pushed millions of former homeowners with tarnished credit into a competitive apartment market across the U.S. Add fresh demand from young workers, few new units and tight standards for home loans, and the result is rental sticker shock not seen in years.
The push from young workers for rentals is present all the time, but the influx of new rental demand from loa
Rents are surging from New York to Los Angeles. The average monthly U.S. rent for apartments hit $1,008 in the first quarter, pushing past the all-time high set in the third quarter of 2008, according to the data firm RealFacts. USC's Lusk Center for Real Estate forecasts a 10% jump in Los Angeles County rents over the next two years. In certain markets, it is now cheaper to own a home than rent.
I predicted five years ago that we would reach the bottom once it became cheaper to own than to rent and the overhead supply was cleared from the market by cashflow investors. That is exactly what is coming to pass.
… Units that years ago would have languished for weeks are snapped up in days. The Santa Monica-based listing service Westsiderentals.com is operating 14 hours a day to meet demand from renters. The company has even seen a bump in interest for its "platinum" relocation service, which offers to chauffeur clients to various Southern California listings…. "In L.A., people have gotten so used to how relaxed it was, they are not aware how competitive it's become," Balderrama said. "Some people have got it, and some people don't, and the ones that don't suffer."

Rob Magnotta, a real estate agent, recently listed his two-bedroom Irvine condominium for rent on Craigslist for $2,300. He had six applicants within 24 hours, including one who wrote a poignant letter about losing a home to foreclosure.

"It was almost too easy," said Magnotta, who chose another renter. "I know the rental market was strong. But until you are actually renting the place, I think you are surprised it is that strong."
Shevy and I talk frequently about the surprising change in the resale market over the last six months. The dwindling supply has completely changed the dynamics from a buyer's market to a seller's market. The difference between the resale market and the rental market is important though. The change in the rental market is caused by an increase in demand, whereas the change in the resale market is caused by an artificial restriction of supply. Increasing demand is a sign of strength. Decreasing supply is a temporary market distortion to mask weakness.
… People who've lost their homes to foreclosure or short sales are also feeling the sting. Damaged credit means many must pay a premium or put down a bigger deposit to secure a place.Robert Corlette pays about $1,700 a month for a two-bedroom town house in Anaheim Hills that he shares with his wife and five children. The family lost their home to foreclosure in 2009 after Corlette lost his $75,000-a-year job selling insurance. His current job, also in the insurance industry, pays about half that.
If he's making less than $40,000 per year and spending $1,700 per month on rent while trying to support a wife and five kids, he must be very stressed.
"There is a lot of pressure," said Corlette, 56. "It wears you down."
No kidding.
The crash has made owning a home more affordable than renting in some markets. An index by the research firm Green Street Advisors compares buying with renting in 79 metro markets; that index hit its most attractive point last year for buying since 1991, when the firm began tracking the data. Researchers calculate that the after-tax cost of a mortgage is only 10% higher than what it costs to rent nationally after taking into account mortgage rates, property taxes and other factors.

Orange and Los Angeles counties remain more expensive for buyers than renters, though that gap has narrowed, according to the index, while owning a home in the Inland Empire is now more affordable than renting.
Actually, most of Orange County is trading at or below rental parity (see far right column).
Rising rents have converted some renters into buyers. Scott Matulis, 48, recently purchased a town home in Oak Park after enduring two consecutive years of rental increases. His mortgage, taxes and homeowner association fees now total $2,200, just $100 more than what he was paying his former landlord.
Rising rents, falling prices, and prices already below rental parity should be prompting people to buy. Buying in those conditions is usually a wise choice.
"I finally just pulled the trigger and figured I'd be throwing money away on rent," Matulis said.
He doesn't mind throwing money away on the rent on money, but he has a problem with spending it on rent? The bullshit "throwing away money on rent" meme may never die. Everyone who spends more to rent money than they do to rent a house is foolish. Any short-term gains from appreciation will get wiped out in the inevitable bust.
Although rising rents may be motivating home purchases by people who are in good shape financially, those increases are walloping working class families and the poor — groups already hard hit by job losses, lost income and stagnant wages.
This is the sad reality of living in coastal California. The Haves have, and the Have-nots live in poverty.
Marisela Alfaro has lived in the same one-bedroom Santa Ana apartment for 28 years. A large bed sits in her living room, where she and her husband sleep; their teenage daughters share the bedroom.

Modest religious art adorns her carefully kept home, but outside Alfaro's door the building is in disrepair, with tattered screens, broken lights and graffiti. Alfaro said the family pays $820 a month and feels lucky to have the apartment.

"There are other places that cost much more," she said in Spanish. "It's been difficult because my husband works in the fields, and that's the lowest salary that there is, and if there is no rain, there is no work."

Even for those with better jobs, paying rent can be difficult.

Virginia Villa of Brea, a single mother of four who works as a manager at Disneyland, has doubled up with her adult daughter, who contributes $400 to the monthly household budget. Still, Villa said, about half her take-home pay goes toward rent and utilities.

"I have a decent job and I would love to buy a house, but I don't think that's possible to do," Villa said. "In O.C., it's even difficult to find a substantial apartment or especially a house to rent — the rental cost for houses is really high."
The poor who have to rent because they can barely make ends meet are the true victims of the housing bust. The loan owners are getting all the attention and the bailout money, but the working-class poor are getting screwed, and they are watching their tax dollars go toward bailout out people with an overblown sense of entitlement.
Typical Ladera Ranch Ponzis
Everyone in Ladera Ranch was living the dream. They all got beautiful new houses for little or no money down, and the house provided them with abundant and steady Ponzi debt income. The house often made more than the salaries of the people who lived there, certainly on an after-tax basis. Take today's featured Ponzis for instance. They put just over $15,000 down to get the property, and it the five years that followed they extracted over $250,000 in free spending money. When it all blew up, they handed back the keys.
This property was purchased on 7/27/2001 for $289,000. The owners used a $230,400 first mortgage, a $43,200 second mortgage, and a $15,400 down payment.
On 3/28/2002 they refinanced with a $256,000 first mortgage and a $30,000 HELOC.
On 8/16/2002 they refinanced with a $285,500 first mortgage.
On 3/27/2003 they refinanced with a $285,000 first mortgage.
On 5/30/3002 they obtained a $35,000 HELOC.
On 11/19/2003 they got a $99,000 HELOC.
On 2/13/2004 they refinanced with a $284,500 first mortgage.
On 10/14/2004 they opened a $197,000 HELOC.
On 12/30/2005 they refinanced with a $469,000 Option ARM with a 1.5% teaser rate.
On 1/6/2006 they opened a $66,500 HELOC.
The defaulted in late 2010 and squatted for over a year.
These people must have had their mortgage broker on speed dial.
Ladera Ranch Overview
Median home price is $413,000. Based on a rental parity value of $644,000, this market is under valued.
Monthly payment affordability has been worsening over the last 2 month(s). Momentum suggests worsening affordability.
Resale prices on a $/SF basis declined from $229/SF to $224/SF.
Resale prices have been falling for 12 month(s). Price momentum suggests falling prices over the next three months.
Median rental rates declined $16 last month from $2,716 to $2,700.
Rents have been rising for 12 month(s). Price momentum suggests rising rents over the next three months.
Market rating = 10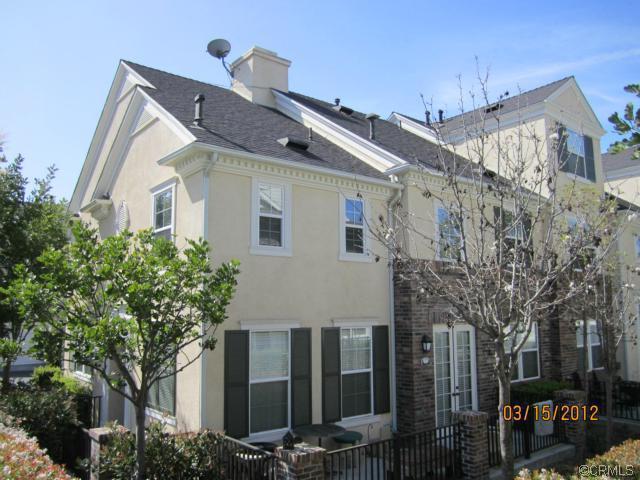 Proprietary OC Housing News home purchase analysis
7 GRANVILLE St Ladera Ranch, CA 92694
$329,900 …….. Asking Price
$289,000 ………. Purchase Price
7/27/2001 ………. Purchase Date
$40,900 ………. Gross Gain (Loss)
($23,120) ………… Commissions and Costs at 8%
============================================
$17,780 ………. Net Gain (Loss)
============================================
14.2% ………. Gross Percent Change
6.2% ………. Net Percent Change
1.2% ………… Annual Appreciation
Cost of Home Ownership

——————————————————————————
$329,900 …….. Asking Price
$11,547 ………… 3.5% Down FHA Financing
3.78% …………. Mortgage Interest Rate
30 ……………… Number of Years
$318,354 …….. Mortgage
$108,236 ………. Income Requirement
$1,480 ………… Monthly Mortgage Payment
$286 ………… Property Tax at 1.04%
$183 ………… Mello Roos & Special Taxes
$82 ………… Homeowners Insurance at 0.3%
$332 ………… Private Mortgage Insurance
$433 ………… Homeowners Association Fees
============================================
$2,796 ………. Monthly Cash Outlays
($226) ………. Tax Savings
($477) ………. Equity Hidden in Payment
$15 ………….. Lost Income to Down Payment
$61 ………….. Maintenance and Replacement Reserves
============================================
$2,169 ………. Monthly Cost of Ownership
Cash Acquisition Demands

——————————————————————————
$4,799 ………… Furnishing and Move In at 1% + $1,500
$4,799 ………… Closing Costs at 1% + $1,500
$3,184 ………… Interest Points
$11,547 ………… Down Payment
============================================
$24,328 ………. Total Cash Costs
$33,200 ………. Emergency Cash Reserves
============================================
$57,528 ………. Total Savings Needed
——————————————————————————————————————————————-
This property is available for sale via the MLS.
Please contact Shevy Akason, #01836707
949.769.1599……
sales@ochousingnews.com…..

We're sorry, but we couldn't find MLS # K12057486 in our database. This property may be a new listing or possibly taken off the market. Please check back again.
$328,888
34 LANSDALE Ct
0.53 miles
3 bd / 2.5 ba
1,520 Sq. Ft.
$259,900
40 GARRISON Loop
0.81 miles
3 bd / 2.5 ba
1,500 Sq. Ft.
$310,000
143 SKLAR St #49
0.9 miles
3 bd / 2.5 ba
1,600 Sq. Ft.
$435,000
59 ORANGE BLOSSOM Cir
1.29 miles
3 bd / 2.5 ba
1,838 Sq. Ft.
$549,000
47 TUSCANY
1.59 miles
3 bd / 2.5 ba
2,100 Sq. Ft.
$439,000
32 TARLETON Ln
1.66 miles
4 bd / 2.5 ba
1,914 Sq. Ft.
$335,000
7 CLIFFORD Ln
1.73 miles
2 bd / 2.25 ba
1,617 Sq. Ft.
$469,000
16 MELROSE Dr
1.96 miles
3 bd / 2.5 ba
1,500 Sq. Ft.
$399,000
26691 Dulcinea
1.98 miles
3 bd / 3 ba
1,830 Sq. Ft.
---
Sign up for the OC Housing News monthly market newsletter.
---
See the enormous foreclosure pipeline for yourself below. Enter location and press search. Scroll through list by pressing "next."
---