Nov272013
Loanowners drowning in debt: 21% underwater, 40% can't move up
The mainstream media spins financial reporting to put news stories in a positive light. Apparently, making readers feel good about their investments sells more papers, or perhaps reporters feel a moral obligation to improve consumer sentiment to boost the economy. Whatever the motivation, financial reporting is one area where good news sells, so financial reporters treat us to happy-talk stories, and they often ignore harsh underlying truths.
The latest cheery chatter from reporters relieves those whose mortgages exceed their home's value. House prices are up, so fewer borrowers are underwater. That's the good news. The bad news lies just beneath the headlines.
Homeowners who owe more on their mortgages than their houses are worth don't really own their properties. The only tangible financial claim they possess is a promissory note burdening the real estate they hold title to. In other words, the don't own their home, they own their loan: They're loanowners.
With house prices moving up, loanowners are becoming partial homeowners again. Their equity claim may be tiny, but at least it's positive. They won't own their homes until the mortgage is paid off, but they could sell without owing the bank money or seeking approval for a short sale. That's a step in the right direction. However, market prices have to move much higher before both borrowers and the banks can breath easy without drowning on a lung full of bad debt.
Posted by: Svenja Gudell Posted date: November 20, 2013
… roughly 10.8 million homeowners with a mortgage still remain underwater … . Moreover, the effective negative equity rate nationally — where the loan-to-value ratio is more than 80%, making it difficult for a homeowner to afford the down payment on another home — is 39.2% of homeowners with a mortgage. While not all of these homeowners are underwater, they have relatively little equity in their homes, and therefore selling and buying a new home while covering all of the associated costs (real estate agent fees, closing costs and a new down payment) would be difficult….
(See: Even with recent gains, 44% of homeowners with mortgages still lack equity for a trade up house)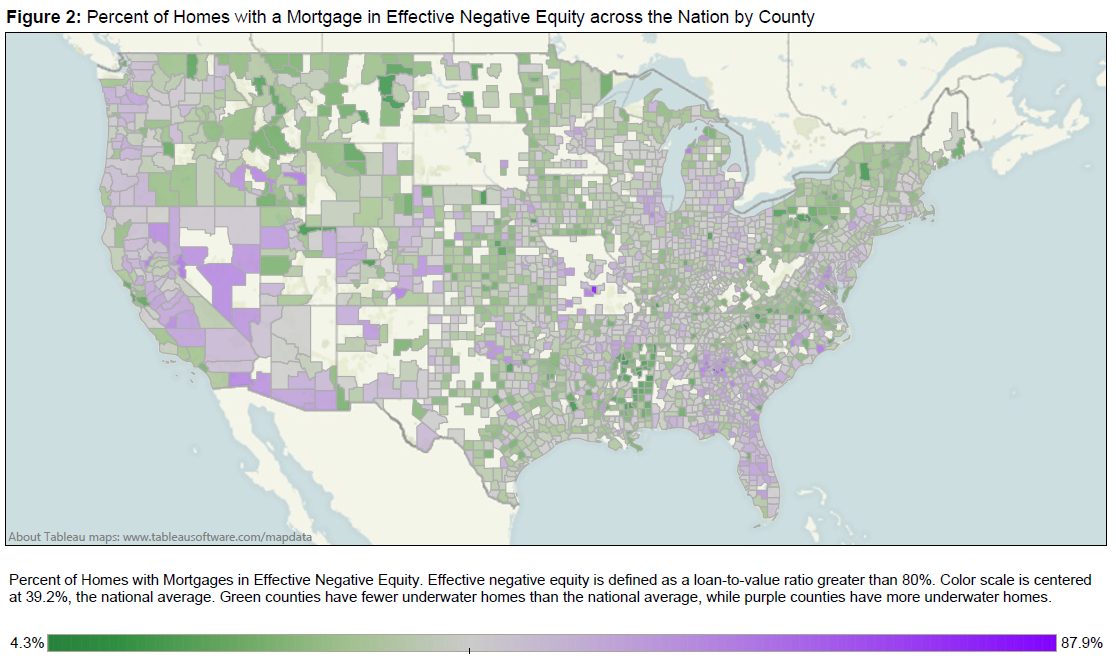 With many homeowners underwater, the supply of for-sale homes is severely limited, as homeowners are locked into their homes. The only options for selling the house on the open market are short sales or paying off the difference between the mortgage and the home sale. …
So why is this a problem? The housing market is suffering from lack of inventory. Buyers struggle to find the homes they want, and they bid up prices to unaffordable levels. The lack of housing inventory and high prices benefits banks, but it causes sales volumes declines and low levels of buyer satisfaction. (See: Negative equity keeping homes off the market).
Recently, inventory constraints have been easing as homeowners are freed from negative equity; therefore we use this summer's (June's) inventory level to compare to negative equity in the second quarter of this year. … the more negative equity, the tighter the inventory.
(See: Low housing inventory is an indicator of residual mortgage distress)
These tight inventory levels produced bidding wars and drove up home values during the peak of the summer selling season. … the tighter the inventory the stronger the gains in home values over the past year.

As further evidence that negative equity is driving home values and a heated real estate market, consider the link between days on … market – correlated with negative equity. … markets with higher levels of negative equity also have homes that remain on the market for fewer days. Of course at the end of this cycle, higher home values work to reduce negative equity and stabilize the market, a movement we have been seeing over the past quarter. ….
Zillow's analysis accurately describes market conditions and effectively links negative equity with a lack of inventory. Basically, banks stopped foreclosing and approving short sales, which removed these properties from the market. This policy obviously helps banks at the expense of future homebuyers, but economists at the federal reserve gallingly whitewashed the facts and posited the idea that homeowners were withholding their properties from the market to capture gains from appreciation.
(See: Federal Reserve willfully ignorant to real cause of MLS listing shortage). In truth, loanowners can't list and sell their submerged McMansions without lender approval of a short sale, and those approvals are not forthcoming.
Markets that have seen the highest levels in home value appreciation in September include Sacramento (34.1%), Las Vegas (33.3%), Riverside (31.8%), San Francisco (25%) and Detroit (23.3%). Furthermore, continued foreclosure liquidations are also driving down the negative equity rate. Despite these high rates of appreciation, negative equity is still very high and will remain high as deeply underwater homeowners are slowly being lifted toward positive equity. This is a process that will take several years – especially in the hardest-hit markets – to work off the high levels of negative equity.
Financial reporters will regale us with emerging loanowner stories for several more years. Prices rose rapidly here in Coastal California, but the more downtrodden markets have further to rise and more bad debt to overcome. Coastal California is no longer undervalued, but most other markets around the country still are, and they will be for quite a while.
When I gave presentations on investing in Las Vegas back in 2011, I posited Las Vegas would regain much of its bubble pricing by 2022. Most who saw my presentation thought I was crazy. With the premature bottom engineered in 2012, the market is two years ahead of schedule.
Over the past year, we have clearly seen the impact of negative equity on the market. We have described how negative equity limits the available for-sale inventory in the marketplace, which in turn has produced extreme rates of home value appreciation. Negative equity will continue to impact the real estate market, especially as mortgage rates rise and home value appreciation tempers, and this in turn will slow the decline in negative equity. … many markets are experiencing slowing home value appreciation, with some markets even experiencing home value declines. This is a good thing, as many markets' home value appreciation was outpacing income growth, and homes were becoming too expensive, putting affordability at risk.
As affordability wanes, home sales volumes will fall, and home price appreciation will slow to a crawl. Formerly hot markets in Coastal California will continue to be outperformed by the less desirable markets where prices crashed harder. (See: SoCal house sales decline while prices stagnate)
Did a change in lender short sale policy also reduce inventory?
Lenders changed policies in late 2011 to favor loan modifications can-kicking over foreclosure: Foreclosure statistics prove this. Lenders also changed policies toward approving short sales, a move not widely known or reported at the time. Lenders stopped approving short sales if the borrower had assets, whereas previously they let borrowers sell without recourse. Since borrowers didn't want to pay the shortfall, they didn't list their homes for sale when the short sale request was denied by their lender. Both policy changes were necessary to remove distressed sales from the market.
Some market observers speculate the reduction in short sales is a result of rising prices because potential sellers can simply wait and sell when they have equity. In my opinion, this puts the effect before the cause. A reduction in short sales was necessary, along with a change in policy toward foreclosure, in order to dry up inventory and force prices to bottom. The evidence of the proper cause and effect is the timing of the decline in short sales: Short sales started dropping before home prices bottomed.
Low inventory and inflated prices are the new normal
Lenders have no reason to change their foreclosure and short sale policies. They successfully engineered a huge market rally enabling them to liquidate their bad bubble-era loans with limited losses. Given lender's success, they will delay foreclosures and deny short sales to keep distressed inventory off the market for as long as it takes to reflate the housing bubble. Unless something changes, this means MLS inventory will remain low, and house prices will remain artificially high due to the imbalance between supply and demand. Perhaps in areas like ours where prices are near the peak, the pace of lender liquidations will quicken, but until those 21% who are underwater or the 40% who can't make a move-up are in a better position, between 20% and 40% of our normal supply simply won't be there.
Six+ years of squatting
Borrowers like to portray themselves as victims. Lenders deserve much derision for their bad behavior, but since lenders don't want to recognize big losses on bad loans, they often aren't in a hurry to foreclose. Today's featured property is the worst I've found so far for squatting before foreclosure.
The owners of this property quit paying their mortgage prior to my first blog post at the IHB nearly seven years ago.
The first NOD was filed on 11/14/2006.
The foreclosure didn't take place until 12/31/2012, more than six years later.
There were 13 filings on this property including three failed loan modifications.
The loanowners who lived in this property didn't make any housing payments for well over six years. Were you paying for your housing during that time? I was.
[idx-listing mlsnumber="SR13236291″]
2534 East TERRACE St Anaheim, CA 92806
$899,900 …….. Asking Price
$615,000 ………. Purchase Price
7/23/2004 ………. Purchase Date
$284,900 ………. Gross Gain (Loss)
($71,992) ………… Commissions and Costs at 8%
============================================
$212,908 ………. Net Gain (Loss)
============================================
46.3% ………. Gross Percent Change
34.6% ………. Net Percent Change
4.0% ………… Annual Appreciation
Cost of Home Ownership
——————————————————————————
$899,900 …….. Asking Price
$179,980 ………… 20% Down Conventional
4.37% …………. Mortgage Interest Rate
30 ……………… Number of Years
$719,920 …….. Mortgage
$176,505 ………. Income Requirement
$3,592 ………… Monthly Mortgage Payment
$780 ………… Property Tax at 1.04%
$0 ………… Mello Roos & Special Taxes
$187 ………… Homeowners Insurance at 0.25%
$0 ………… Private Mortgage Insurance
$0 ………… Homeowners Association Fees
============================================
$4,560 ………. Monthly Cash Outlays
($925) ………. Tax Savings
($971) ………. Principal Amortization
$287 ………….. Opportunity Cost of Down Payment
$245 ………….. Maintenance and Replacement Reserves
============================================
$3,196 ………. Monthly Cost of Ownership
Cash Acquisition Demands
——————————————————————————
$10,499 ………… Furnishing and Move-In Costs at 1% + $1,500
$10,499 ………… Closing Costs at 1% + $1,500
$7,199 ………… Interest Points at 1%
$179,980 ………… Down Payment
============================================
$208,177 ………. Total Cash Costs
$48,900 ………. Emergency Cash Reserves
============================================
$257,077 ………. Total Savings Needed
[raw_html_snippet id="property"]
[raw_html_snippet id="newsletter"]