Through a combination of falling prices and low down payment mortgages, many buyers of the bear rally of 2009 find themselves underwater. When you figure in the transaction costs of selling a home, the numbers are really grim. Despite the negative circumstances, few of this buyer cohort will strategically default. Most are only slightly underwater, and since most also have a cost of ownership at or below rental parity, it's more costly for them to rent, so most will stay put and wait out the remaining decline.
By Tim Reid
Thu Apr 26, 2012 1:12pm EDT
(Reuters) – More than 1 million Americans who have taken out mortgages in the past two years now owe more on their loans than their homes are worth, and Federal Housing Administration loans that require only a tiny down payment are partly to blame.

That figure, provided to Reuters by tracking firm CoreLogic, represents about one out of 10 home loans made during that period.
In other words, it is not representative of how bad the problem really is. Since 2008, the FHA has underwritten loans for between 13% and 19% of the total US housing market. Many of those loans were refinances. When looking at the purchase market, the FHA share ballooned to 24% to 33% of that market. A quarter to a third of all purchases were FHA loans. FHA loans are considerably more expensive than conventional financing; therefore, the majority of people using FHA loans did so because they only had the minimum 3.5% down and could not obtain a conventional loan. Since prices have been tunneling to new lows, nearly all of the FHA buyers over the last four years are underwater. When considering the transaction costs of sale, every FHA buyer who put less than 6% down is effectively underwater.
It is a sobering indication the U.S. housing market remains deeply troubled, with home values still falling in many parts of the country, and raises the question of whether low-down payment loans backed by the FHA are putting another generation of buyers at risk.

As of December 2011, the latest figures available, 31 percent of the U.S. home loans that were in negative equity – in which the outstanding loan balance exceeds the value of the home – were FHA-insured mortgages, according to CoreLogic.

Many borrowers, particularly since late 2010, thought they were buying at the bottom of a housing market that had already suffered steep declines, but have been caught out by a continued fall in prices in wide swaths of America.
How much responsibility to realtors have in trapping those poor souls. realtors call the bottom every year, in the past with absolutely no compelling data or justification for their bottom call. It was pure bullshit intended only to dupe buyers into believing the bottom was in so they would buy with a false sense of security. The self-serving realtor community did this to generate commissions irrespective of the hardship it inflicted on the buyers they ostensibly serve.
Even for loans taken out in December – less than four months ago and the last month for which data is available – nearly 44,000 borrowers, or about 7.5 percent of the total, now find themselves under water.

"The overwhelming majority of the U.S. is still seeing home prices decline," said CoreLogic senior economist Sam Khater. "Many borrowers continue to be quickly wiped out."

The problem is not uniform around the country. In some areas, such as Washington, D.C., Miami and parts of northern California, prices are on the rise.

CoreLogic predicts the overall U.S. housing market will finally bottom out this year.
If the lending cartel can sustain its grip on the supply, and if they are content to meter homes out at a very small rate, then prices may indeed bottom. In most markets, prices are affordable, at least at the entry level (Orange County's move-up markets are still overpriced). If the downward momentum can be reversed, there is a chance the bottom formed this year will be the true bottom. However, it's rare in financial markets that engineered price supports form a durable bottom because the overhead supply does not clear out. If we do bottom at this higher level, the market will pay the price in years of tepid appreciation.
And the number of homeowners falling under water each month has decreased significantly since the peak of the financial crisis in 2008 and early 2009.

Still, Khater said, since October 2010 average home prices have fallen 7.4 percent. Overall, CoreLogic data shows that 11.1 million, or 22.8 percent, of U.S. residential properties with a mortgage are in negative equity, unchanged from the summer of 2010.
The numbers have remained the same but the composition has changed. As lenders foreclose on delinquent mortgage squatters, the remove one underwater loan owner from the statistics. However, as prices fall, a new one submerges beneath his debts to take the place of the former loan owner put out of his misery by foreclosure.
… "This is creating a new wave of underwater borrowers," said Gary Shilling, a veteran financial analyst and well-known housing market bear. "We have all three branches of government trying to keep people in four bedroom houses who can't afford chicken coops."
Notice the dismissive language describing Mr. Shilling? The fact that he is a well-known housing market bear is intended to make him look biased and lack credibility. It should do the opposite considering he has been correct for the last six years now. BTW, is rather colloquial description of the situation is correct. The government, the federal reserve, and the banking cartel (the three modern branches of government) are doing everything they can to keep people paying on houses they could never afford.
… CoreLogic's Khater said: "Low down payment lending in a weak housing market and weak economy begs the question whether we are setting up the FHA to have a multitude of failures down the line."
Of course we are, but nobody really cares about that. The banks simply want their money, the loan owners want to stay in their houses, and politicians want to make both groups happy. The renters and true homeowners who are paying the bills be damned.
… "I'm at least $80,000 under water," Opalka told Reuters. "We never expected to go under water. We never expected prices to fall like they have. We definitely didn't see this coming. If I'd known this, we probably would have rented."
Again, if their realtor had not promised them the world, they would have had a different outcome.
… In January 2009, the minimum down payment for an FHA loan rose from 3 percent to 3.5 percent, and the upfront premium for mortgage insurance has also been raised.In October 2010, only borrowers with a credit score of 580 or above could get a loan with a 3.5 percent down payment. Those with credit scores between 500 and 579 faced a 10 percent down payment. Those with credit scores below 500 do not qualify for an FHA loan. …

A Fair Isaac Corporation score – known as FICO and the standard evaluation of creditworthiness in the United States. – of less than 620 is usually considered sub-prime.
People falsely complain current lending standards are tight. Judge for yourself from the above information. The FHA will allow people with a 500 FICO score to borrow 90% of the value of home. Does that seem particularly tight to you?
"Most of the people I have dealt with have ended up paying less on their monthly mortgage payments than they were when they rented. The good thing is, we have got lots of young families into these homes.
"And if they stay put, they will eventually get equity."
The only reason we won't see significant strategic default among borrowers from the 2009 to 2011 era is that their cost of ownership was most often less than the cost of a competing rental. Strategic default really doesn't make much sense for the borrower if their alternative is to pay more for housing. It's the group who have no equity and are paying a premium on their housing costs who benefit the most from strategic default. Most bubble-era borrowers fall in this category. So despite so many of the new buyers being loan owners, most will hold on and not contribute to the downward spiral through strategic default.
First-time homebuyer training Wednesday, May 2, 2012, 6:30 PM
---
Sign up for first-time homebuyer training.
First Wednesday every month at 6:30 PM. Or RSVP to
sales@ochousingnews.com
---
The FHA worked for these people
Many buyers get their first property using FHA financing because it takes too long to save up for a 20% down payment. For those who did so at the bottom of the last real estate cycle, their return on investment was astronomical.
Today's featured property was purchased for $179,500 on 7/29/1994. The owners used a $170,000 first mortgage and a $9,000 down payment. They pulled out more than 44 times what they put in. How many other investments can do that?
On 4/17/1997 they obtained a $30,000 stand-alone second. After less than three years, they already got their down payment back, and they more than tripled their investment. And this property had only just begun to reward them.
On 2/20/2001 they obtained a $199,950 first mortgage.
On 8/7/2001 they opened a $50,000 stand-alone second.
On 9/26/2002 they refinanced with a $290,000 first mortgage.
On 9/22/2003 they refinanced with a $308,000 first mortgage.
On 4/30/2004 they opened a $68,000 HELOC.
On 7/23/2004 they obtained a $90,000 HELOC.
On 6/2/2005 they got a $125,000 HELOC.
On 8/28/2006 they opened a $170,000 stand-alone second. Don't you think a lender could see by this point these borrowers were Ponzis? How much more obvious does it need to be?
On 2/14/2007 they refinanced with a $480,000 first mortgage and obtained a $90,000 HELOC.
There is no way to know if they maxed out the HELOC, but based on their previous pattern, what would you guess.
Total property debt is $570,000.
Total mortgage equity withdrawal is $400,000.
They got to squat for at least a year and half too.
They cleared $400,000 in untaxed income from a $9,000 initial investment. That's why California real estate is so highly prized.
La Habra Overview
Median home price is $273,000. Based on a rental parity value of $414,000, this market is under valued.
Monthly payment affordability has been worsening over the last 3 month(s). Momentum suggests worsening affordability.
Resale prices on a $/SF basis declined from $209/SF to $208/SF.
Resale prices have been falling for 12 month(s). Price momentum suggests falling prices over the next three months.
Median rental rates increased $115 last month from $1,631 to $1,746.
Rents have been falling for 6 month(s). Price momentum suggests falling rents over the next three months.
Market rating = 5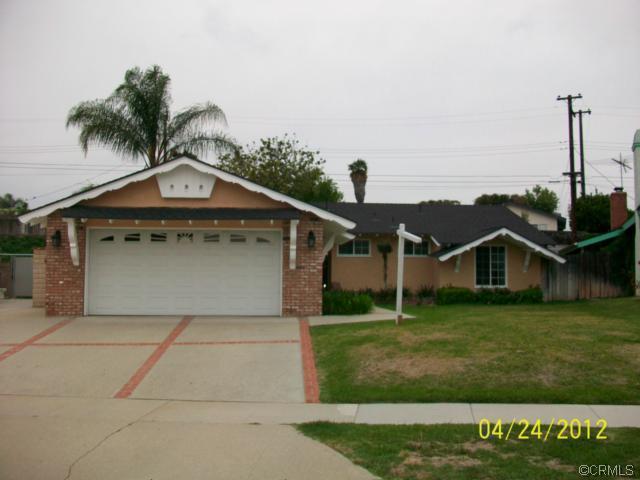 Proprietary OC Housing News home purchase analysis
521 MARTINEZ Dr La Habra, CA 90631
$341,200 …….. Asking Price
$179,500 ………. Purchase Price
8/29/1994 ………. Purchase Date
$161,700 ………. Gross Gain (Loss)
($14,360) ………… Commissions and Costs at 8%
============================================
$147,340 ………. Net Gain (Loss)
============================================
90.1% ………. Gross Percent Change
82.1% ………. Net Percent Change
3.6% ………… Annual Appreciation
Cost of Home Ownership

——————————————————————————
$341,200 …….. Asking Price
$11,942 ………… 3.5% Down FHA Financing
3.82% …………. Mortgage Interest Rate
30 ……………… Number of Years
$329,258 …….. Mortgage
$87,559 ………. Income Requirement
$1,538 ………… Monthly Mortgage Payment
$296 ………… Property Tax at 1.04%
$0 ………… Mello Roos & Special Taxes
$85 ………… Homeowners Insurance at 0.3%
$343 ………… Private Mortgage Insurance
$0 ………… Homeowners Association Fees
============================================
$2,262 ………. Monthly Cash Outlays
($235) ………. Tax Savings
($490) ………. Equity Hidden in Payment
$15 ………….. Lost Income to Down Payment
$105 ………….. Maintenance and Replacement Reserves
============================================
$1,658 ………. Monthly Cost of Ownership
Cash Acquisition Demands

——————————————————————————
$4,912 ………… Furnishing and Move In at 1% + $1,500
$4,912 ………… Closing Costs at 1% + $1,500
$3,293 ………… Interest Points
$11,942 ………… Down Payment
============================================
$25,059 ………. Total Cash Costs
$25,400 ………. Emergency Cash Reserves
============================================
$50,459 ………. Total Savings Needed
——————————————————————————————————————————————-
This property is available for sale via the MLS.
Please contact Shevy Akason, #01836707
949.769.1599……
sales@ochousingnews.com…..

We're sorry, but we couldn't find MLS # K12052617 in our database. This property may be a new listing or possibly taken off the market. Please check back again.
$350,000
2531 UNION Ave
0.08 miles
3 bd / 1.75 ba
1,200 Sq. Ft.
$302,200
2141 SIDON Ave
0.25 miles
4 bd / 2 ba
1,493 Sq. Ft.
$417,000
2271 CANTERBURY
0.49 miles
3 bd / 1.75 ba
1,259 Sq. Ft.
$342,000
330 RIGSBY St
0.51 miles
3 bd / 1.75 ba
1,193 Sq. Ft.
$215,000
913 GLENCLIFF St
0.53 miles
2 bd / 2 ba
1,140 Sq. Ft.
$369,000
2321 GREENBRIER Ln
0.63 miles
3 bd / 1.75 ba
1,202 Sq. Ft.
$379,900
2511 GREENBRIER Ln
0.63 miles
3 bd / 2 ba
1,167 Sq. Ft.
$364,999
640 MARDINA Way
0.73 miles
3 bd / 2 ba
1,448 Sq. Ft.
$345,000
2381 FOXDALE Ave
0.82 miles
3 bd / 1.5 ba
1,395 Sq. Ft.
$325,000
16053 MARLINTON Dr
0.91 miles
3 bd / 1.75 ba
1,373 Sq. Ft.
---
Sign up for the OC Housing News monthly market newsletter.
---
See the enormous foreclosure pipeline for yourself below. Enter location and press search. Scroll through list by pressing "next."
---