Quite predictably, pending home sales have declined precipitously due to the lack of available inventory.
Lenders have a variety of reasons for withholding inventory right now, but among the biggest reasons is their desire to cause house prices to bottom. Lenders make the false assumption that supply and demand controls all pricing. It does not. Withholding supply may help buoy prices in the short term, but affordability puts a cap on prices stopping them from rising.
Lenders hope active buyers raise their bids and push prices higher. After all, that's what buyers did during most of the housing bubble. Buyers have some ability to raise their bids by substituting to inferior housing stock, and some buyers do raise their bids only to be knocked down by an appraiser rooted in reality. Unfortunately for lenders, buyers are limited in what they can borrow by prudent lending standards. Fearful of a forced buyback on a GSE or FHA loan, the originating lender aggressively verifies income and strictly limits the borrower to conforming loan standards. This prevents prospective buyers from raising their bids irrespective on any limitations of supply. In other words, lenders can restrict supply all they want, it isn't going to make buyers bid any higher and close the deal.
So what is the end result of restricted supply and effective limits on potential buyer's borrowing power? A plethora of canceled escrows and a dramatic drop in completed home sales.
LOS ANGELES (May 22) – After posting a strong performance in March, California pending home sales slipped in April, but were higher than a year earlier for the twelfth consecutive month, the CALIFORNIA ASSOCIATION OF REALTORS® (C.A.R.) reported today. Additionally, the share of equity sales posted its highest level in nearly four years.
Those pesky CAr banana peels strike again. Apparently, the bullshit artists at CAr decided the word "slipped" sounds innocuous and won't alarm anyone to the fact that sales went DOWN. A slip is a temporary setback of little consequence, or at least that's what CAr wants prospective buyers to think. Perhaps this is a "slip," but sales very rarely "slip" between April and May. Spring is the beginning of the prime selling season, and sales almost always go up each month from March through August. A sharp decline, and this was a sharp decline, is not a positive sign.
Pending home sales:

C.A.R.'s Pending Home Sales Index (PHSI)* declined from a revised 138.9 in March to 128.0 in April, based on signed contracts. The index was up from the revised 114.4 index recorded in April 2011, marking the twelfth consecutive month that pending sales were higher than the previous year. Pending home sales are forward-looking indicators of future home sales activity, providing information on the future direction of the market.
By CAr's own admission, a declining pending home sales index means the housing market is weakening and should be heading down soon. The spring rally is going to fizzle out just like it did last year.
"Inventory constraints could be a contributing factor to lower pending sales," said C.A.R. President LeFrancis Arnold. "The tight inventory we've been experiencing in the distressed market over the past several months is now spreading to equity properties, essentially affecting the supply conditions of both the distressed and non-distressed markets."
Does anything this guy said make any sense? How does tight inventory spread to equity properties? There are plenty of equity properties on the market. Most of them are ridiculously overpriced rendering them unsalable, but they are on the market. Further, there is no distinction between the distressed and non-distressed market.
There is only one real estate market. It is composed of reasonably priced REOs and short sales and WTF priced discretionary sellers. The REOs and short sales sell while the WTF priced properties do not. These are not separate markets. Both properties coexist in the same market, although based on what some discretionary seller ask for their properties, an argument can be made that they live in an alternate reality.
Sales dropped nationally too
California was not the only market to experience pain. All the western states where banks are withholding inventory saw sharp declines in sales.
WASHINGTON (April 19, 2012) – Existing-home sales were down in March but continue to outpace year-ago levels, while inventory tightened and home prices are showing further signs of stabilizing, according to the National Association of realtors®.
Notice how the NAr dresses up the negative truth with bullshit positive spin?
Total existing-home sales1, which are completed transactions that include single-family homes, townhomes, condominiums and co-ops, declined 2.6 percent to a seasonally adjusted annual rate of 4.48 million in March ….
Sales don't decline at this time of year unless something is terribly wrong with the market. The spring rally in 2011 also fizzled out in May due to the market headwinds that still exist today.
Lawrence Yun, NAR chief economist, said the recovery is in the process of settling into a higher level of home sales. "The recovery is happening though not at a breakout pace, but we have seen nine consecutive months of year-over-year sales increases," he said.
When coming off one of the slowest sales years ever recorded, it shouldn't be surprising sales are up over last year. Yun makes this out to be a big deal when it's really not.
"Existing-home sales are moving up and down in a fairly narrow range that is well above the level of activity during the first half of last year.
This is the prime selling season. Sales should be moving up briskly as compared to the first months of the year. The fact that they are not is ominous.
With job growth, low interest rates, bargain home prices and an improving economy, the pent-up demand is coming to market and we expect housing to be notably better this year."
The old "pent-up demand" bullshit. Desire is not demand. The NAr always expects housing to be notably better. Any improvement will be touted as a great comeback, and if the market disappoints (which it may), then it will be written off as some unexpected anomaly rather than a direct result of the obvious problems overhanging the market.
By Tiffany Hsu — May 30, 2012, 9:35 a.m.
… "Home contract activity has been above year-ago levels now for 12 consecutive months," said Lawrence Yun, the association's chief economist, in a statement. "The housing recovery momentum continues."
The housing recovery momentum continues? When Lawrence Yun tells a real whopper, I wonder if he feels any regret. He and other at the NAr have induced millions of buyers into committing financial suicide since 2006 so they could line their own pockets. There is a special place prepared for his ilk.
The banks are only hurting themselves by delaying liquidation, but in their world, it really doesn't matter. They win either way.
Replacing the Ponzis
Plenty of prospective buyers are interested in obtaining a free ATM machine, but since those most likely to spend this free money imploded, there is insufficient demand from those with good credit to absorb the inventory. Even if we wouldn't have had a price crash, the move-up market would be weak because the Ponzis spent all their move-up equity. The result of all this Ponzi borrowing is properties like this one pillaged by their former owners need to be liquidated. Lenders have many more homes like this than they have new buyers to absorb them, so they withhold this inventory from the MLS hoping at some point in the future, a buyer will materialize.
The former owners of today's featured property were typical OC Ponzis. They paid $575,000 on 9/4/2003 using a $431,000 first mortgage and a $144,000 down payment.
They refinanced with a $460,000 first mortgage on 4/15/2004.
On 9/22/2004 they obtained a $87,500 HELOC.
On 1/31/2006 they refinanced with a $537,000 first mortgage.
On 7/3/2006 they obtained a $250,000 HELOC.
It's difficult to tell how much of the HELOC they used, but the bank took the property back on 2/2/2012 for $676,471, so the first mortgage increased by about $140,000 since 2006. Either these people squatted for a long time and the fees and missed payments really added up, or some part of the HELOC was used. Either way, these people lost everything, including the $144,000 down payment they put into the property.
Huntington Beach Overview
Median home price is $486,000. Based on a rental parity value of $585,000, this market is fairly valued.
Monthly payment affordability has been improving over the last 10 month(s). Momentum suggests improving affordability.
Resale prices on a $/SF basis declined from $316/SF to $316/SF.
Resale prices have been weak for 12 month(s). Price momentum suggests weak prices over the next three months.
Median rental rates declined $25 last month from $$2,454 to $$2,429.
Rents have been slowly rising for 12 month(s). Price momentum suggests slowly rising rents over the next three months.
Market rating = 3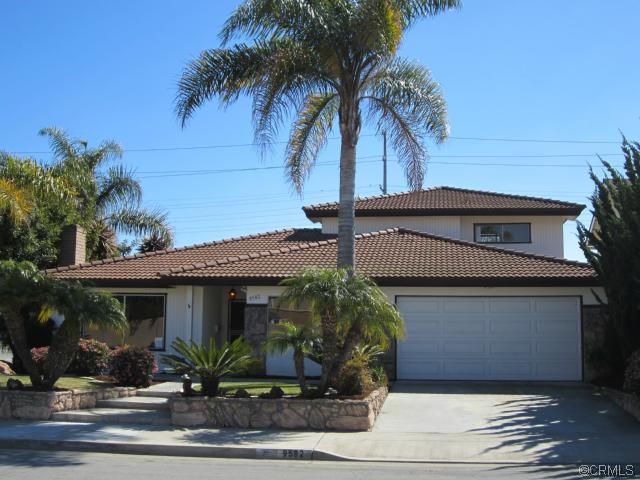 Proprietary OC Housing News home purchase analysis
9582 PEPPERTREE Dr Huntington Beach, CA 92646
$639,900 …….. Asking Price
$575,000 ………. Purchase Price
9/4/2003 ………. Purchase Date
$64,900 ………. Gross Gain (Loss)
($46,000) ………… Commissions and Costs at 8%
============================================
$18,900 ………. Net Gain (Loss)
============================================
11.3% ………. Gross Percent Change
3.3% ………. Net Percent Change
1.2% ………… Annual Appreciation
Cost of Home Ownership

——————————————————————————
$639,900 …….. Asking Price
$127,980 ………… 20% Down Conventional
3.74% …………. Mortgage Interest Rate
30 ……………… Number of Years
$511,920 …….. Mortgage
$119,320 ………. Income Requirement
$2,368 ………… Monthly Mortgage Payment
$555 ………… Property Tax at 1.04%
$0 ………… Mello Roos & Special Taxes
$160 ………… Homeowners Insurance at 0.3%
$0 ………… Private Mortgage Insurance
$0 ………… Homeowners Association Fees
============================================
$3,082 ………. Monthly Cash Outlays
($376) ………. Tax Savings
($772) ………. Equity Hidden in Payment
$159 ………….. Lost Income to Down Payment

$180 ………….. Maintenance and Replacement Reserves
============================================
$2,273 ………. Monthly Cost of Ownership
Cash Acquisition Demands
——————————————————————————
$7,899 ………… Furnishing and Move In at 1% + $1,500
$7,899 ………… Closing Costs at 1% + $1,500
$5,119 ………… Interest Points
$127,980 ………… Down Payment
============================================
$148,897 ………. Total Cash Costs
$34,800 ………. Emergency Cash Reserves
============================================
$183,697 ………. Total Savings Needed
——————————————————————————————————————————————-

We're sorry, but we couldn't find MLS # C12037465 in our database. This property may be a new listing or possibly taken off the market. Please check back again.
$879,000
9522 BORBA Cir
0.15 miles
4 bd / 2.5 ba
2,572 Sq. Ft.
$699,900
21302 LEMONTREE Ln
0.18 miles
3 bd / 2.5 ba
2,673 Sq. Ft.
$1,159,000
9341 LAWTON Dr
0.39 miles
5 bd / 4.25 ba
3,305 Sq. Ft.
$825,000
1186 GLENEAGLES Ter
0.68 miles
4 bd / 2.5 ba
3,000 Sq. Ft.
$825,000
9861 DRAGON Cir
0.69 miles
5 bd / 3 ba
3,035 Sq. Ft.
$760,000
20852 SEA MIST Ln
0.8 miles
4 bd / 2.5 ba
2,381 Sq. Ft.
$759,000
20342 RUNNING SPRINGS Ln
1.19 miles
4 bd / 2.25 ba
2,549 Sq. Ft.
$499,000
1833 PENINSULA Pl
1.21 miles
5 bd / 3 ba
2,400 Sq. Ft.
$762,000
20171 INTERIOR Ln
1.31 miles
5 bd / 3 ba
2,600 Sq. Ft.
$1,499,000
424 62ND St
1.64 miles
4 bd / 3.75 ba
2,841 Sq. Ft.
---
Sign up for the OC Housing News monthly market newsletter.
---
See the enormous foreclosure pipeline for yourself below. Enter location and press search. Scroll through list by pressing "next."
---