Banks cannot force a short sale. So what, you say? Well, this simple fact has eluded the banks and the pundits who believe banks can simply shift their liquidation efforts from REOs to short sales.
The major banks in the settlement deal want to complete more short sales to reach their write-off quotas. Short sales count toward their settlement amount, and foreclosures do not. This explains much of the recent dramatic shift away from foreclosures. However, foreclosures are within the control of banks; they can force foreclosures. Short sales are not within the banks control. Sure, they can approve more short sales, and they have over the last few months, but they can do nothing to force delinquent mortgage squatters to sell if they are committed to enjoying the free ride. This creates a huge problem for the banks.
Are delinquent mortgage squatters motivated to sell?
Why would someone getting a free ride want to move out and start paying rent? The incentive is to stay until forced out rather than go through the hassle of a short sale. So how are loan owners responding to this incentive?
According to Foreclosure Radar, in Orange County there are about 11,000 delinquent mortgage squatters who have been served with either a Notice of Default or a Notice of Sale. This doesn't include the other 15,000 or more who have not yet been served notice. Of the 11,000 that have been served notice, only 720 are listed for sale. That's about 7%.
According to Redfin, there are about 7,000 active listings in Orange County. If you exclude short sales, the number drops to 6,000. So there are only 1,000 short sale listings in the entire county. So of the 25,500 delinquent mortgage squatters in Orange County, only 1,000 of them are trying to sell their house. That's about 4%.
What about the other 24,500? Well, they are looking to continue the free ride. Loan owners are not listing their properties for sale because their incentive is to stay put and pay nothing.
With no inventory, sales will plummet
With the slowdown in foreclosures and the increase in approvals of existing short sales, inventory has all but evaporated. Banks hoped loan owners would step up and list their homes for sale. That isn't happening. In fact, there is so little for sale on the MLS right now that sales volumes are likely to plummet, and the spring rally is going to flop. Perhaps prices may go up a little as people overpay for inferior homes, but with nothing to buy, potential buyers will sit and wait.
Since banks can't force loan owners to list their properties, and since banks want to complete more short sales, they are now creating incentives for loan owners to list their homes.
05/18/2012 By: Esther Cho
Just days after Bank of America officially announced its nationwide program offering up to $30,000 in relocation assistance for short sales, a Massachusetts-based real estate company revealed in a blog that one of its clients was approved to receive $10,000.
Relocation assistance? Bullshit. This is a bribe, a payoff to get squatters to leave voluntarily.
I thought the rationalization for completing short sales rather than foreclosing was that it cost the banks less money. What good does it do the bank to get a higher sales price if they have to pay the delinquent mortgage squatter $30,000 to leave the house?
"We knew this client was eligible for some relocation assistance but we did not realize it would be this much. It was a welcome surprise for our client who is having a hard time coming up with money to move," said Anthony Lamacchia, owner and broker of Mcgeough Lamacchia Realty. "I think [BofA] is making many improvements across the board, and I applaud them for it."
This implies squatters don't move because they can't afford a few hundred dollars for a mover. More bullshit. Squatters don't want to move because they have free housing where they are now. Once they move, they will have to start paying rent. Who wants to volunteer for that?
BofA posted the announcement in a statement Tuesday. In order to be eligible for the relocation assistance, BofA stated that the short sale must be initiated by the end of this year and close by September 26, 2013. Also, sellers must do their part and work proactively with the bank to obtain a preapproved sales price before submitting a purchase offer.
Banks are smart enough to realize most will play the short sale game to extend their free stay. Who wouldn't? By demanding the seller cooperate to get paid, they may complete a few more transactions or at least make it more obvious as to who is gaming them for a free ride.
The carrot and stick approach is the best method for getting more short sales approve. The carrot is now the promise of a $30,000 payoff. The stick is the threat of foreclosure if the borrower does not cooperate. This new policy will get the banks through 2012. By 2013, they will be forced to ramp up foreclosures once again to force out the squatters committed to game the system through a foreclosure.
The relocation expenses are offered at closing and can range from $2,500 up to $30,000, and the amount offered is determined on a case-by-case basis, with variables such as the value of the home and amount owed factored into the equation.
When the deal gets to closing the hopes of a $30,000 payoff will quickly fade to a $3,000 boot in the ass. The $30,000 number gets attention and headlines, but nobody will actually get that amount. Most will get the minimum. Of course, the headline is what matters. The banks want loan owners to reach out to them to start the short sale process. It's a classic bait-and-switch sales technique.
"This program can help customers make a planned transition from ownership when home retention options have been exhausted or they have made a decision not to keep the home," said Bob Hora, home transition services executive for BofA.
Notice the careful language in this statement. Mr Hora describes a "transition from ownership" but doesn't mention what ownership transitions to. Apparently stating loan owners are about to become renters is taboo.
… In addition to the cash assistance offer, BofA also recently announced in April that it's trimming response times for short sales down to 20 days. However, real estate professionals must do their part and submit five documents for a complete short sale package when initiating the process.

The five documents are a purchase contract including Buyer's Acknowledgment and Disclosure HUD-1; IRS Form 4506-T; Bank of America Short Sale Addendum, which includes the Agent Certification form; and Bank of America Third-Party Authorization Form.

According to a BofA statement, the bank has completed 200,000 short sales in the last two years and another 30,000 in the first quarter of 2012.
The banks are serious about completing more short sales. The basic dynamics of the transaction haven't changed as second mortgage holders will still hold up most short sales, but at least the banks are motivated now. Because of the complexity of short sales and the disincentives of both sellers and second lien holders to completing a sale, I don't see short sales as being a panacea for bank liquidations. Ultimately, banks will fall short of their short sale goals, and they will resume foreclosures to finally clear out the trash.
Three and one-half years of free housing
The rewards of squatting are large. Housing represents a third to a half of a typical family's take-home pay. Eliminating that expense is a boon to delinquent mortgage squatters few are willing to give up. How many of you would volunteer to cut your salary in half? That's basically what delinquent mortgage squatters do when they go back to paying for their housing.
The owner of today's featured property bought near the peak, so he didn't get any HELOC booty. However, he did enjoy nearly four years of free housing.
Prior Transfer Recording Date: 10/14/2011 Sales Price: $310,000   Foreclosure Record Recording Date: 04/13/2011 Document Type: Notice of Sale   Foreclosure Record Recording Date: 12/28/2010 Document Type: Notice of Default   Foreclosure Record Recording Date: 03/25/2009 Document Type: Notice of Rescission   Foreclosure Record Recording Date: 08/07/2008  
The latest this guy quit paying was April of 2008. Given that lenders are not often timely with their filings, it is likely he was delinquent long before then. They didn't acquire the property at auction until October of 2011. Were you paying for your housing during those nearly four years? I was.
Fullerton Overview
Median home price is $365,000. Based on a rental parity value of $515,000, this market is under valued.
Monthly payment affordability has been improving over the last 5 month(s). Momentum suggests improving affordability.
Resale prices on a $/SF basis increased to $245/SF to $246/SF.
Resale prices have been weak for 12 month(s). Price momentum suggests weak prices over the next three months.
Median rental rates declined $83 last month from $$2,242 to $$2,159.
Rents have been slowly rising for 5 month(s). Price momentum suggests slowly rising rents over the next three months.
Market rating = 5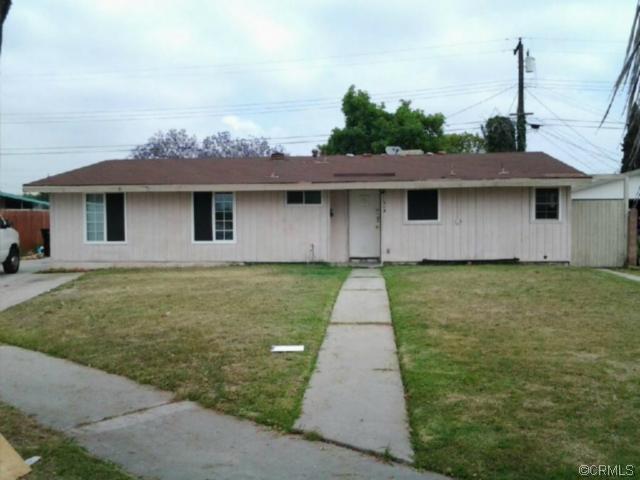 Proprietary OC Housing News home purchase analysis
519 West GAGE Ave Fullerton, CA 92832
$261,000 …….. Asking Price
$460,000 ………. Purchase Price
3/30/2005 ………. Purchase Date
($199,000) ………. Gross Gain (Loss)
($36,800) ………… Commissions and Costs at 8%
============================================
($235,800) ………. Net Gain (Loss)
============================================
-43.3% ………. Gross Percent Change
-51.3% ………. Net Percent Change
-7.7% ………… Annual Appreciation
Cost of Home Ownership

——————————————————————————
$261,000 …….. Asking Price
$9,135 ………… 3.5% Down FHA Financing
3.75% …………. Mortgage Interest Rate
30 ……………… Number of Years
$251,865 …….. Mortgage
$66,590 ………. Income Requirement
$1,166 ………… Monthly Mortgage Payment
$226 ………… Property Tax at 1.04%
$0 ………… Mello Roos & Special Taxes
$65 ………… Homeowners Insurance at 0.3%
$262 ………… Private Mortgage Insurance
$0 ………… Homeowners Association Fees
============================================
$1,720 ………. Monthly Cash Outlays
($101) ………. Tax Savings
($379) ………. Equity Hidden in Payment
$11 ………….. Lost Income to Down Payment
$85 ………….. Maintenance and Replacement Reserves
============================================
$1,336 ………. Monthly Cost of Ownership
Cash Acquisition Demands

——————————————————————————
$4,110 ………… Furnishing and Move In at 1% + $1,500
$4,110 ………… Closing Costs at 1% + $1,500
$2,519 ………… Interest Points
$9,135 ………… Down Payment
============================================
$19,874 ………. Total Cash Costs
$20,400 ………. Emergency Cash Reserves
============================================
$40,274 ………. Total Savings Needed
——————————————————————————————————————————————-

We're sorry, but we couldn't find MLS # I12061119 in our database. This property may be a new listing or possibly taken off the market. Please check back again.
$299,900
654 West GAGE Ave
0.17 miles
4 bd / 2.25 ba
1,369 Sq. Ft.
$350,000
311 West SOUTHGATE Ave
0.38 miles
4 bd / 2 ba
1,854 Sq. Ft.
$320,000
719 West ELM Ave
0.53 miles
3 bd / 2 ba
1,394 Sq. Ft.
$309,900
638 West MAPLEWOOD Ave
0.58 miles
4 bd / 1.75 ba
1,819 Sq. Ft.
$320,000
601 South TAMARACK Dr
0.61 miles
5 bd / 1.75 ba
1,358 Sq. Ft.
$349,900
608 South TAMARACK Dr
0.61 miles
3 bd / 1.75 ba
1,336 Sq. Ft.
$349,000
1121 West ELM Ave
0.76 miles
3 bd / 1.5 ba
1,268 Sq. Ft.
$329,900
1428 West LA PALMA Hbr
0.81 miles
3 bd / 2.75 ba
1,507 Sq. Ft.
$359,900
225 East ROSSLYNN Ave
0.84 miles
4 bd / 1.75 ba
1,597 Sq. Ft.
$350,000
1007 North LIDO St
0.87 miles
2 bd / 2.5 ba
1,561 Sq. Ft.
---
Sign up for the OC Housing News monthly market newsletter.
---
See the enormous foreclosure pipeline for yourself below. Enter location and press search. Scroll through list by pressing "next."
---