Pessimism pervades the housing market. Every major group with credibility that analyzes the housing market is predicting further price declines. The only group forecasting price increases is the the NAr (PDF of NAr forecast). What a surprise. The clueless shills at the NAr couldn't bring themselves to give an accurate forecast, so instead they manipulated the numbers to come up with a tiny price increase in 2012.
In addition to the eight groups projecting price declines (S&P Case-Shiller -3.7%, LPS -4.8%, FHFA -1.8%, FNC -4.6%, CoreLogic -4.3%, Radar Logic -7.1%, Clear Capital -2.2%, Zillow -4.6%), I have forecast a -1% to -4% decline in local prices primarily due to upcoming lender supply. The tenth forecaster predicting lower prices is Fiserv.
01/30/2012 By: Carrie Bay
The analysts at Wisonsin-based Fiserv, Inc. are forecasting average U.S. home prices to fall by another 2.7 percent through the third quarter of 2012, before rising 3.8 percent by the third quarter of 2013.

The company says the monthly mortgage payment for the median-priced U.S. home has dropped to $640, nearly 45 percent below the housing bubble peak of $1,150 and its lowest level since 1994. Mortgage payments now account for only 14 percent of monthly median family income, according to David Stiff, Fiserv's chief economist.
By nearly any measure, affordability is at record levels. Only in places like Orange County were lenders have withheld product from the market are prices just now reaching historic affordability levels. In places like Las Vegas, affordability has never been as good as it is today.
This improvement in housing affordability is expected to drive sales activity going forward, and while not enough to change Fiserv's predictions for the direction of home prices at the national level, the company does foresee notable improvements in select markets.

Stiff notes that while prices continued to fall in most markets, sales activity picked up at the end of 2011, setting the foundation for price stabilization in 2012.
Sales activity will increase this year due to the improving economy and good affordability. The direction of house prices will not be determined by demand. It's supply that will govern what happens, and right now, REOs are being withheld from the market here in Orange County as inventory recently hit a 20-month low. The banks have no shortage of REO, so the recent trend is entirely by choice by lender's asset managers.
Stiff also cited the impact of improving economic indicators, such as consumer confidence, which while still extremely low, has bounced back from its sharp decline following the downgrade of U.S. debt.

He stressed that if the job market continues to improve, then the rebound in consumer confidence will be sustained this year and more households will be willing to purchase big ticket items such as a house.

"[W]e do anticipate that increasing sales activity will begin to drive small increases in prices in as many as half of U.S. metro areas," Stiff said.
So why do prices keep falling?
The problem for housing is an imbalance between supply and demand. The banks are clearing out the delinquent mortgage squatters, and these houses will increase the supply of for sale homes. Further, the sellers will be motivated. The displaced former owners will not have the down payment or qualifying credit to buy anther house which removes them from the potential buyer pool reducing demand. So what we are left with is an increase in the supply of motivated sellers and a decrease in demand. That spells trouble for home prices.
To see this in action, take a look at the Las Vegas housing market. Affordability has never been as good as it is today. It costs less on a monthly payment basis to own a house than it does to own a car. Despite this fact, prices keep falling due to the imbalance between supply and demand. A similar dynamic will be operative locally over the next few years.
---
For more news, market analysis and property profiles, please see the
South OC Housing News.
---
The former owners of today's featured property went Ponzi. The paid $395,000 back in 1989, and it went back to the bank for $583,746. After 22 years of ownership, they should have had the property nearly paid off. Instead, they withdrew several hundred thousand dollars and spent it. Now they are broke and their credit is shot. They're not big shots now.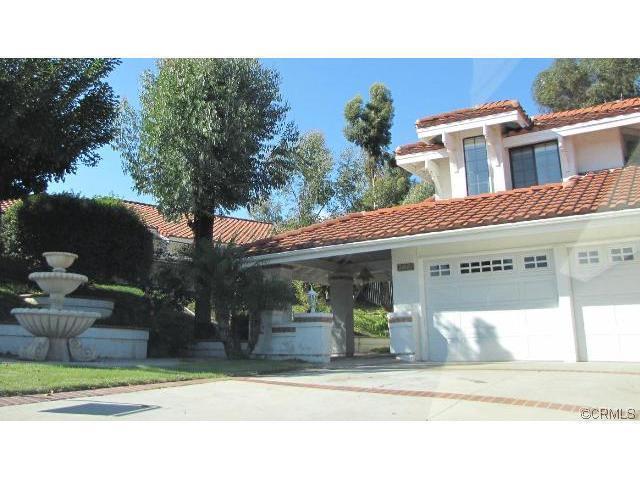 – —- —- —- —- —- —- —- —- —- —- —- —- —- —- —- —- —- —- —- —- —- —- —- —- —- —- —- —- —- —- —- —- —- —- —- —- —- —- —- —- —- —- —- —- —- —- —- —- —- —- —- —- —- —- —- — ————————————————————————————————————————————-
Proprietary OC Housing News home purchase analysis
24681 CHARLTON Dr Laguna Hills, CA 92653
$588,000 …….. Asking Price
$395,000 ………. Purchase Price
2/22/1989 ………. Purchase Date
$193,000 ………. Gross Gain (Loss)
($31,600) ………… Commissions and Costs at 8%
============================================
$161,400 ………. Net Gain (Loss)
============================================
48.9% ………. Gross Percent Change
40.9% ………. Net Percent Change
1.7% ………… Annual Appreciation
Cost of Home Ownership
——————————————————————————

$588,000 …….. Asking Price
$117,600 ………… 20% Down Conventional
3.92% …………. Mortgage Interest Rate
30 ……………… Number of Years
$470,400 …….. Mortgage
$111,512 ………. Income Requirement
$2,224 ………… Monthly Mortgage Payment
$510 ………… Property Tax at 1.04%
$0 ………… Mello Roos & Special Taxes
$147 ………… Homeowners Insurance at 0.3%
$0 ………… Private Mortgage Insurance
$0 ………… Homeowners Association Fees

============================================
$2,881 ………. Monthly Cash Outlays
($358) ………. Tax Savings
($687) ………. Equity Hidden in Payment
$158 ………….. Lost Income to Down Payment
$167 ………….. Maintenance and Replacement Reserves
============================================
$2,160 ………. Monthly Cost of Ownership
Cash Acquisition Demands
——————————————————————————
$7,380 ………… Furnishing and Move In at 1% + $1,500
$7,380 ………… Closing Costs at 1% + $1,500
$4,704 ………… Interest Points
$117,600 ………… Down Payment
============================================
$137,064 ………. Total Cash Costs
$33,100 ………. Emergency Cash Reserves
============================================
$170,164 ………. Total Savings Needed
——————————————————————————————————————————————-
This property is available for sale via the MLS.
Please contact Shevy Akason, #01836707
949.769.1599……
sales@ochousingnews.com…..

We're sorry, but we couldn't find MLS # I11156439 in our database. This property may be a new listing or possibly taken off the market. Please check back again.
Competing Listings
$824,900
24661 DEVONPORT Cir
0.07 miles
3 bd / 2.75 ba
2,480 Sq. Ft.
$669,900
26371 LOS ALAMITOS Ave
0.26 miles
4 bd / 2.75 ba
2,400 Sq. Ft.
$550,000
26311 LAS ALTURAS Ave
0.3 miles
3 bd / 2 ba
2,394 Sq. Ft.
$699,900
24902 ZUMAYA Ct
0.52 miles
5 bd / 3 ba
3,406 Sq. Ft.
$1,095,000
26981 ROCKING HORSE Ln
0.57 miles
4 bd / 2.5 ba
2,636 Sq. Ft.
$599,900
25942 ERNESTINE Ct
0.64 miles
5 bd / 2.5 ba
2,680 Sq. Ft.
$560,000
26002 ANACAPA
0.65 miles
4 bd / 3 ba
2,371 Sq. Ft.
$1,299,000
27301 WESTRIDGE Ln
0.75 miles
4 bd / 3.5 ba
3,200 Sq. Ft.
$949,000
27361 WESTRIDGE Ln
0.81 miles
4 bd / 4.5 ba
3,422 Sq. Ft.
$950,000
27142 HIDDEN Trl
0.88 miles
5 bd / 3 ba
3,358 Sq. Ft.
---
Wouldn't you be embarrassed to overpay by $100,000? Only fools buy houses without knowing neighborhood values. Don't be a fool. Don't suffer the pain of an underwater mortgage. The surest way to lose your house is to overpay for it. Our reports identify overvalued and undervalued neighborhoods. Use it to broaden or narrow your search area. Savvy buyers work with us to find bargains. We've saved thousands from financial ruin. Let us save you too. If you want peace of mind while shopping for your next home, sign up for our monthly market newsletter.
---
---
---
---